Invisalign Clear Orthodontics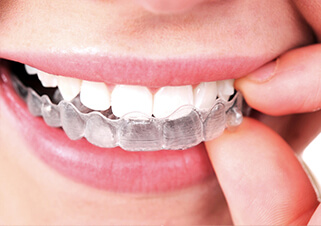 Many patients want to correct misaligned teeth and unsightly gaps for a straighter smile, but the thought of wearing traditional metal braces for years to achieve it is just too much of a commitment to make. Thankfully, Invisalign offers you an alternative, much more sophisticated solution. This treatment consists of a set of clear oral aligners that are virtually unnoticeable when worn, allowing you to maintain your natural appearance as your smile undergoes beautiful changes. Each aligner represents a different stage of your teeth as they move towards their ideal alignment. All patients have to do is wear each one for a couple of weeks before switching to the next in the set, as well as attend regular, brief check-ups with Dr. Moore so that she can ensure you're making progress smoothly.
With Invisalign, there are no potentially painful braces or brackets to worry about – only smooth, clear plastic that's been designed to fit your smile perfectly. Better yet, the aligners are easily removable, meaning that you can still practice oral hygiene at home and eat your favorite foods. Treatment also only requires around 8-18 months, which is a significantly shorter time than the multiple years traditional braces can often need to be fully effective.